This is the official story of why I happened to be caught on film wearing a goat-head mask, among the many other bizarre costumes I have worn as part of the hip, controversial, cutting edge performance art group known as The Church of the SubGenius. Here's what really happened:
One day when he was a little boy, my son asked me what kind of religions people believed in before the modern ones came along. I said that they believed all kinds of things, depending on where you were, but that mostly the ancient religions were stories people told each other to explain natural phenomena. He asked me for an example.
I said, "Oh, like they might say the reason the moon wanes every month is that the Great Sky Goat eats it." He asked me, "What makes it come back each month then?" I said, "It grows back. The goat waits for it to be ripe before he eats it." And we all had a good laugh.
Every once in a while one of us would bring it up in a funny context, like, "Where is my matching sock?" "I don't know, maybe the Sky Goat ate it!" And again, we all had a good laugh.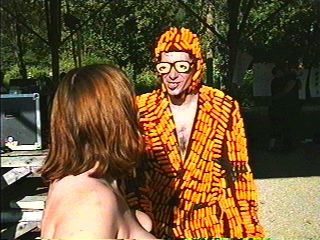 Then, years later, my friend Rev. Nickie Deathchick said the theme of the annual X-Day ball was "Deities." Come dressed as your favorite deity or a priest/priestess of a deity, or something around a deity theme at least. Or come dressed in Chee-tohs, its a free country, the point is, get yourself to X-Day!
So anyway, the first deity I thought of was the Sky Goat, because despite official pronouncements to the contrary, I find goats in general very funny, and the Sky Goat funny in particular. So I got a flowerpot and some papier-mache strips and some marbles and I made a goat-head. I dressed in a vaguely ancient-priestess-looking (so I thought anyway) bodystocking and dress, and I went to the Deity Ball, and again we all had a good laugh.
Obviously, that's not how it ended up looking in photographs. But if people want to go around assuming the humble and traditionally humorous goat is always linked to something awful, I don't see how I can really be responsible.